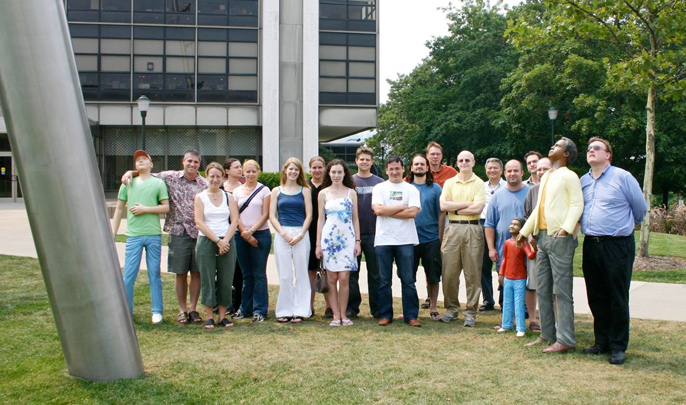 (L to R) Green shirt guy [statue], Paul Kieffaber, Melissa Beck, Orit Hazzan, Amy Santamaria, Brittney Opperman, Barbara Deml, Bella (Zafria) Veksler, Daniel Holt, Melih Gunal, Gustavo Lacerda, Niels Taatgen, John Anderson, Yulin Qin, Dean Petters, Ken McAnally, Dan Bothell, Little red shirt guy [statue], Dad of little red shirt guy [statue], Don Morrison
link to proceedings
All sessions will be in Adamson Wing (room 136A), which is on the first floor of Baker Hall.
Friday
br> br> br> br>
7:45 Continental breakfast
8:15 Welcome
8:30 Five talks (20 minutes each)
John Anderson, A new utility learning mechanism
Perception
Glenn Gunzelmann, Representing Human Spatial Competence in ACT-R
William Kennedy & Greg Trafton, Representing and Reasoning about Space
Greg Trafton, Raj Ratwani & Len Breslow, A Color Perceptual Process Theory: Letting ACT-R see Colors.
Mike Byrne, An ACT-R Timing Module based on the Attentional Gate Model
10:10 Break
10:30 Five talks
Communication and Learning from Instructions
Mike Matessa, Four levels of Communication, Error, and Recovery in ACT-R
Angela Brunstein, Learning Algebra by Exploration
Memory
Leendert van Maanen & Hedderik van Rijn, Memory Structures as User Models
Jong Kim, Frank Ritter & Richard Koubek, Learning and Forgetting in ACT-R.
Jon Fincham & Greg Siegle, Modeling mechanisms that differentiate healthy and depressed individuals: The Paced Auditory Serial Attention Task
12:10 Lunch
1:30-5:30 David Noelle, Leabra tutorial and discussion (with 3:30-4:00 break)
6:30-10:00 Party at the Pittsburgh Centre for the Arts, 6300 Fifth Avenue, Pittsburgh.
Saturday
7:45 Continental breakfast
8:30 Five talks
Multi-tasking and Control
Duncan Brumby & Dario Salvucci, Exploring Human Multitasking Strategies from a Cognitive Constraints Approach
Dario Salvucci & Niels Taatgen, An Integrated Approach to Multitasking in ACT-R
Andrea Stocco & John Anderson, The Neural Correlates of Control States in Algebra Problem Solving
Erik Altmann & Greg Trafton, Modeling the Timecourse of Recovery from Task Interruption
Jared Danker, The Roles of Prefrontal and Posterior Parietal Cortices in Algebra Problem Solving: A Case of Using Cognitive Modeling to Inform Neuroimaging Data
10:10 Break
10:30 Five talks
Individual differences
Niels Taatgen, Ion Juvina, Seth Herd & David Jilk, A Hybrid Model of Attentional Blink
Daniel Hasumi-Dickison and Niels Taatgen, Individual differences in the Abstract Decision Making Task.
Ion Juvina, Niels A. Taatgen, & Daniel Hasumi-Dickison, The Role of Top-Down Control in Working Memory Performance: Implications for Multi-Tasking
Modeling/Architectural issues/Tools
Robert St. Amant, Sean McBride & Frank Ritter, An AI Planning Perspective on Abstraction in ACT-R Modeling
Christian Lebiere, Constraints and Complexity of Information Retrieval
12:10 Lunch
1:30 Five talks
John Anderson, Dan Bothell, Christian Lebiere & Niels Taatgen, the BICA project
Model validation
Glenn Gunzelmann & Kevin Gluck, Model Validation and High Performance Computing
Hedderik van Rijn, Complex model validation by multi-level modeling
Terrence Stewart & Robert West, ACT-R versus not-ACT-R: Demonstrating Cross-domain Validity
Simon Li & Richard Young, ACT-R ALMOST provides a formula for predicting the rate of post-completion error
3:10 Break
3:40 Future of ACT-R
Sunday
7:45 Continental breakfast
8:30 Five talks
Reasoning/problem solving
Adrian Banks, The Influence of Belief on Relational Reasoning: An ACT-R Model
Complex tasks
Michael Schoelles, Wayne D. Gray, Vladislav Veksler, Stephane Gamard, and Alex Grintsvayg, Cognitive Modeling of Web Search
Eric Raufaste, ATC in ACT-R, a model of Conflict Detection between Planes
Shawn Nicholson, Michael Byrne & Michael Fotta, Modifying ACT-R for Visual Search of Complex Displays
Shawn Nicholson, Michael Fotta, Rober St. Amant & Michael Byrne, SegMan and HEMA-SI
10:10 Break
10:30 Five talks
Emotion
Frank Ritter, Sue Kase, Michael Schoelles, Jeanette Bennett & Laura Cousino Klein, Cognitive Aspects of Serial Subtraction
Robert West, Terrence Stewart & Bruno Emond, Modeling Emotion in ACT-R
Danilo Fum, Expected values and loss frequencies: A new view on the choice process in the Iowa Gambling Task
Visual perception and Search
Troy Kelley, Visual Search
Mike Byrne, A Theory of Visual Salience Computation in ACT-R
12:10 End