A Hybrid Model Of Categorization in ACT-R

Jonathan T. Betz

John Anderson

Overview

Motivations

The Exemplar-Based Random Walk (EBRW) Model of Categorization

The Rule-Plus-Exception (RULEX) Model of Categorization

An ACT-R Hybrid of RULEX and EBRW

The Data to Model

The Fit to the Data

What Lies Ahead

Motivations

Basis:
There exists a division in the literature between rule-based and exemplar-based models of category learning
There are existing models which are specific to rule-based or exemplar-based categorization, but no models which account for both kinds of behavior

Goal:
A demonstration of ACT-R's capacity for integration which:
is capable of learning to use either rule-based or exemplar-based categorization methods
is based on existing models that account for one type of behavior, but not the other
reproduces the data from multiple experiments

Description of the Exemplar-Based Random Walk (EBRW) Model of Categorization (Nosofsky & Palmeri, 1997)

Exemplars in declarative memory "race" to be retrieved when a stimulus is presented
The speed with which an exemplar can be retrieved is determined by its activation strength in memory and its similarity to the presented stimulus
The exemplar with the fastest retrieval time is used as evidence in making the category judgement
An internal counter is incremented or decremented based on the category evidence from the retrieved exemplar
When the counter reaches a threshold value, a category judgement is announced
Learning occurs as subjects reach the random walk criterion with fewer retrievals
Primary prediction of the model: Response time
Description of the Rule-plus-Exception (RULEX) Model of Categorization (Nosofsky, Palmeri, and McKinley, 1994)
Learning is a search through a space of possible rules which classify stimuli
Subjects begin by trying to use a single-dimension perfect rule to classify stimuli
When a perfect rule fails, a new perfect rule is tried, until all perfect rules have been tested
Example rule: 2*** Þ B
If no single-dimension perfect rule is found, subjects next search for a single-dimension imperfect rule
A rule is tested for at least one block of stimuli, and is used for another block if it passes a lax criterion of accuracy.
If a rule passes a strict criterion after two blocks of stimuli, it is kept as a permanent rule, and the exception-learning process begins
If an imperfect rule does not pass the criterion, it is discarded, and another imperfect, single-dimension rule is selected for testing

If no single-dimension imperfect rule is found, subjects next search for a conjunctive, imperfect rule, using the same testing process as in the search for single-dimension imperfect rules

Description of the Rule-plus-Exception (RULEX) Model of Categorization, Continued

Exceptions are formed when a stimulus is incorrectly classified by the permanent rule
Dimensions to use in the exception are probabalistically sampled; Dimensions named in the rule are sampled with P=1, all others are sampled with a fixed probability
Example exception: 2*11 Þ A

If no rules pass the strict criterion, subjects give up trying to find a rule and store exceptions

Stimuli are classified by:
Comparing to see if any exceptions apply to that stimulus. If so, the most specific exception that applies is used.
If no exception applies, judgement is made according to the current rule

When an exception produces an incorrect category judgement, it is eliminated

Primary Prediction of the Model: Generalization pattern on novel stimuli

A Hybrid ACT-R Model

Background:
EBRW and RULEX have both been successfully implemented as independent models within ACT-R

Goal:
A combined implementation that learns to u implemented as independent models within ACT-R

Goal:
A combined implementation that learns to use either a RULEX process or an EBRW process in making categorization decisions.

Solution: The "Big Switch"
At each presentation of a stimulus, set a subgoal that defines the categorization method to use.
The EBRW process can only begin if there is some exemplar which is similar to the current stimulus
The RULEX process can only begin if there is some rule which has not yet been disqualified through testing
If neither process applies, a random guess is made
The model learns which method to use through production parameter learning (primarily learning q and r)
The Data to Model
Nosofsky & Palmeri, 1997, Experiment 1
Stimuli:
12 Color blocks of varying brightness and saturation, divided into two categories.
Main Results:
Subjects showed power-law learning, and response times on each stimulus varied in direct proportion to distance from the category boundary
Nosofsky, Palmeri, and McKinley, 1994, Experiment 1
Stimuli:
Line drawings of rocket-ships with 4 binary-valued dimensions
Main Results:
Subjects showed a well-defined distribution of generalization patterns on novel stimuli

The main goal in this endeavor is to generate a model that begins with the same parameter settings for both experiments, and learns to use the categorization method that best reproduces subjects' behavior.
Important Features of the Model
Strong initial bias towards using rules to categorize stimuli
Initial Expected Gain of using a rule = 18.95
Initial Expected Gain of using exemplar data = 6.45
RULEX can never be used unless there is some rule in declarative memory which applies to the stimuli
The model can not learn to classify color stimuli, like those used in the EBRW experiment, by rules, as there is no evidence that subjects can form a rule based on features such as brightness and saturation
Attempts to use RULEX are still important in modeling the latency data in the EBRW experiment
EBRW can not be used on a given stimulus unless there is some exemplar in declarative memory which has activation above the retrieval threshold
The model must initially either use rule-based classification, or make random guesses, until chunks are retrieved enough times to get a high enough activation
Fitting the Data
We have fit the RULEX data
Correlation to Generalization Data = 0.86
Fits for the EBRW data are still in development, but initial results are promising
Participant 1 (W = 0.7, RT = 0.1):
Average Correlation with Learning Data = 0.87
Average Correlation with Profile Data = 0.76
2 other participants to model
Differences in the model to fit different data sets
Retrieval Threshold – use lower values in the EBRW experiment than in the RULEX experiment
W (Goal Activation) - use the default value (1) to model the RULEX data, and values less than 1 to model the EBRW data.
Reason to change W between models
W can reasonably be changed for the EBRW data because of the nature of the stimuli. W indicates activation spreading from the goal, but it's reasonable to expect that "brightness" and "saturation" are not strong sources of activation.
Chunks which mismatch:
have no increase in activation due to source spread
have activation decreased by mismatch penalty
Very high Sji values for the stimuli in the EBRW experiment
Each brightness and saturation value only appears as a slot value in one chunk Þ Sji = ln(m)
Reducing W reduces the effect of these values
These factors lead to a very high probability of recalling the exemplar that is exactly identical to the presented stimulus.
This is inconsistent with Nosofsky's definition of the EBRW model
With W at the default value in the EBRW experiment, the model does not make a number of misretrievals that is in line with subject data.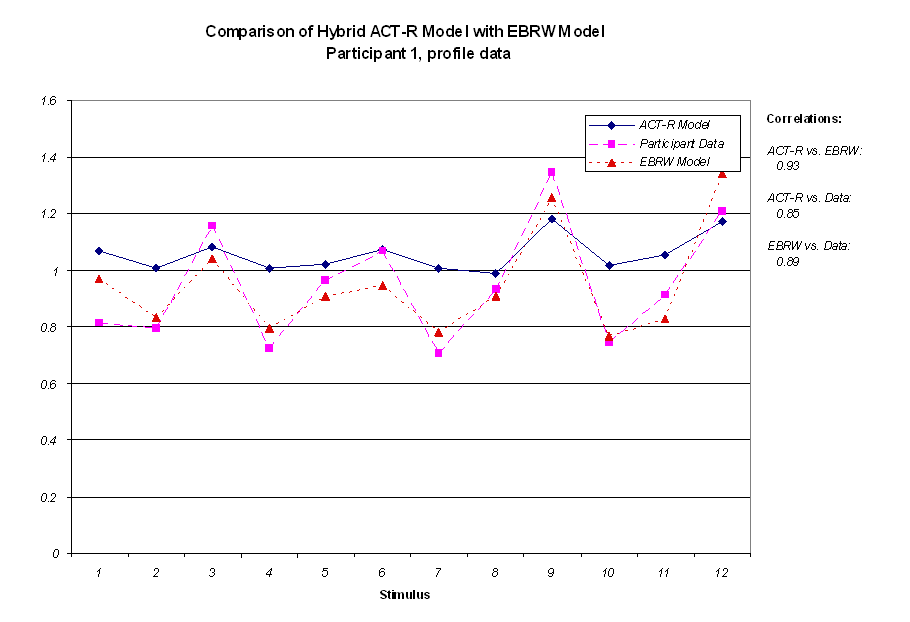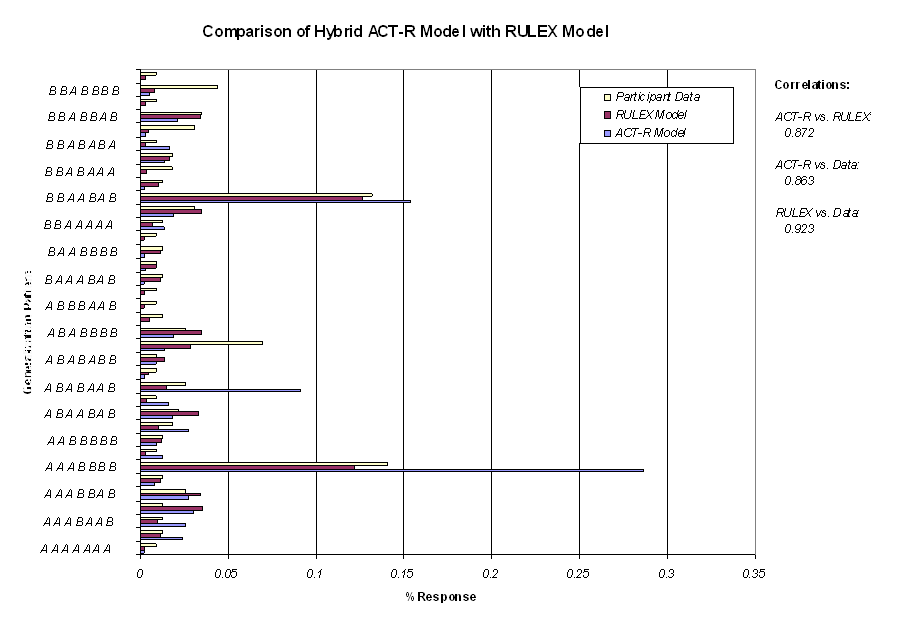 What Lies Ahead
Completing fits to the EBRW data
Modeling data from Erickson & Kruschke (in press)
Subjects using a rule-based approach, with a capacity for storing exceptions.
Evidence of using a mismatch mechanism when presented with novel stimuli.
Issues raised for ACT-R:
Strengths of association for continuous-valued slot values
Integration of the mismatch penalty and spreading activation mechanisms